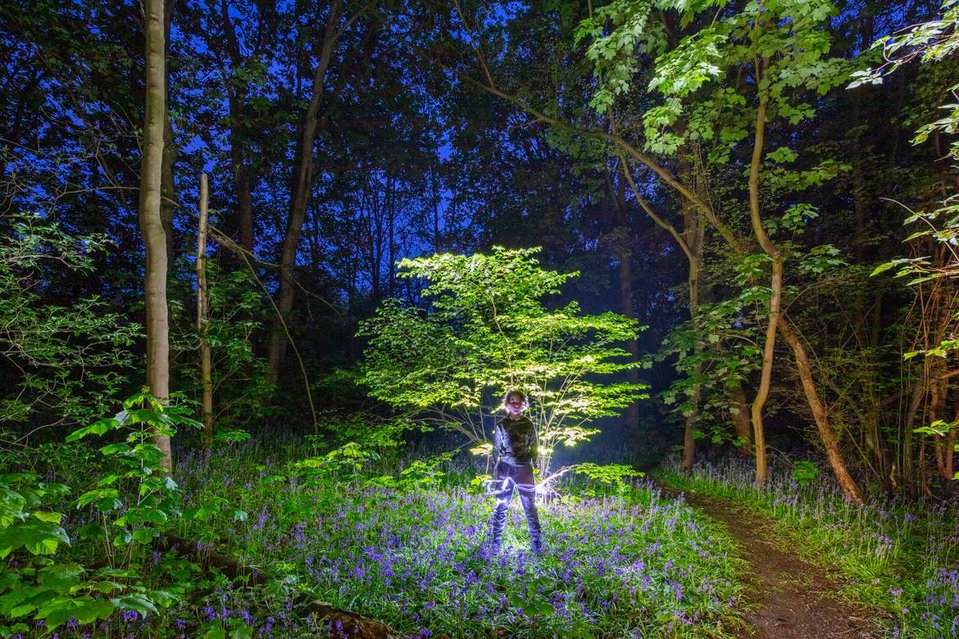 Painting with light has always been a form of escapism for me, heading out in to the night and illuminating the landscape or a building and changing the way something looks by adding light and colour. Things can appear very different at night, our eyes become hyper sensitive and views which are familiar during daylight are changed with the addition of a sense of fear and caution.
The night adds extra layers, drawing on our more basic instincts of protection and caution, which all together make a more heightened sense of awareness.
My son and I found a bluebell wood, right next to where we were moored on the River Stort in Essex and we decided to charge up my Lykos LED panels and carefully find our way in to the woods. When we took these photos it was almost completely black, it was a very slight crescent moon and there was a fair amount of cloud so no ambient light.
Bluebell woods are always beautiful to see, but lighting them up against the darkness really made the colours pop out. Using one or two directional lights also can completely change the form of the subject you are looking at. So something familiar like a tree or bed of flowers can suddenly appear more 3D as opposed to when you see the same sight during the day with all around multi directional sun light.
We will be doing more of these works over the coming months and will update this blog with the new work.